Documenting your cloud architecture is extremely important. It's a critical piece of understanding the starting point of your design, then validating that it was constructed correctly. Documentation also allows for better employee training, easier troubleshooting, and cleaner audits. In short, your documentation is like a fire extinguisher for your team, and you want it ready to go at all times.
Creating and maintaining documentation can also be incredibly time consuming and complex. You may know about the benefits of having current documentation but still struggle to make the  time to keep it updated. What you need is an efficient, accurate way to update documentation on a regular basis, like Lucidscale.
3 minute read
Want to make a cloud visualization of your own? Try Lucidscale. It's quick, easy, and completely free.
Keep your documentation up to date using Lucidscale
Lucidscale makes creating and updating cloud architecture documentation faster and easier in five steps:
Import your cloud architecture to the Data Hub
Navigate to the left-side panel in the Lucid homepage and select "Import Data'' to pull in cloud provider metadata and get an accurate picture of your current state. Lucidscale works with AWS, Azure, and GCP. More information on importing data can be found here. 
Create a new model in Lucidscale from the imported data
Auto-generate a model from your imported data. You'll be able to apply filters, customize views, show connected resources, and more.  
Manage your views
You can use the existing views, or you can create your own custom view to segment the infrastructure and focus on specific parts of your cloud architecture. Options include:
Using multiple views and filters to focus on specific resource groups

Toggle lines on and off to verify specific resources are connected appropriately

Add conditional formatting rules to help organize and sort information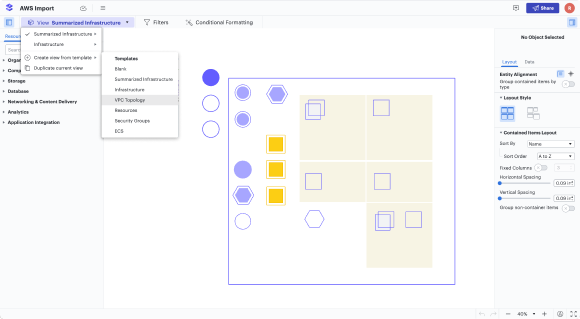 Capture your current state
Your model is now an up-to-date reflection of your cloud! Log in periodically to update the model in the Data Hub to keep it current.
 

Share your documentation
If you use Confluence or an internal Wiki, consider using Lucidscale's embed code to export your cloud model  and keep it available on your team's page. Every time you update the model in Lucidscale, your embedded models will also update. You can also use your models  in Lucidspark and Lucidchart—see how our suite of tools is more powerful together.
Cloud visualization is quick and easy with Lucidscale. Start a free trial today to start visualizing.
Sign up free
Example
Lucidscale users are already benefiting from their updated documentation. For example, we are helping a credit bureau to visualize and update their documentation to prepare employees for system outages. Downtime is costly and struggling to find documentation can prolong the issue. Instead, when an outage occurs the team can draw on a current Lucidscale visual to diagnose and resolve the issue much faster. Employees can also be trained to handle outages, using the models to understand the architecture and identify potential points of failure. 
Other Lucidscale users are tasked with building new architectures, without having accurate documentation of the current system. Using Lucidscale allows teams to capture their cloud architecture as it is today, enabling them to quickly move on to design their new systems. Being able to generate documentation quickly and update it frequently keeps designers innovating, instead of trying to define an out-of-date version that everyone is ready to move past.
Conclusion
Cloud storage offers incredible flexibility, but that can make keeping up with documentation a time-consuming process. Save your team valuable time by generating a model that reflects your architecture today, then keeping it updated so that everyone in your organization stays on the same page. Lucidscale can easily capture your current state and you can update at-will, helping your team troubleshoot today and design improvements for tomorrow.