Cloud environments are naturally designed to be dynamic, with frequent changes and updates as teams work to test and optimize their setup. This is one of the main benefits of using cloud resources, but it also brings risks that things will get left behind. Orphaned services and resources in cloud accounts aren't necessarily going to degrade performance, but they can cause operational costs to rise.
It can be tricky and time consuming to find orphaned elements in your cloud if you're working manually. Many teams don't have the time or resources to devote to frequent checks for services that aren't needed anymore but aren't causing obvious issues either. 
Lucidscale can help teams quickly and accurately visualize their cloud, then filter for elements that could be making your costs balloon unnecessarily. Here's how:
2 minute read
Want to make a cloud visualization of your own? Try Lucidscale. It's quick, easy, and completely free.
How to minimize cloud costs using Lucidscale
Import your architecture into the data hub
Not sure how to import data into Lucidscale? Our Help Center article on importing your data will get you started.
Create new model in Lucidscale
Auto-generate a model from your imported data in the Lucid documents menu by selecting +New and hovering over Lucidscale to select either AWS, Azure, or GCP. Choose your data source and follow the prompts to create your model. 
Create a view using the Infrastructure view template
With an updated model, you're ready to start hunting down unnecessary elements.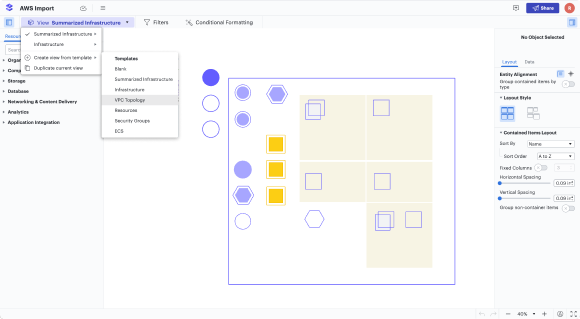 You can use filters and views to remove specific resources based on tags or other identifying features. By focusing on specific resource groups, you can determine if an element is still in use. For example, you could filter out resources based on a tag for "production" or a specific application. Then you can look at these elements to make sure they're still being used.
You can also toggle lines on and off to look at how resources and services are connected. See an element that should be connected to something but isn't? That could be an expensive orphan.
Conditional formatting rules can also be applied, highlighting questionable services or spots that deserve a closer look. 
Collaborate and resolve orphans in the cloud
When you find elements that you need more information on, use @ tags to start a conversation with your teammates and get their input on the element. You can have discussions right in the model, making sure everyone is seeing the same diagram and getting the context necessary to resolve the issue.
Conclusion
Monitoring cloud costs is an important control measure, but you don't want to drive your costs up with manual processes, either. Lucidscale models are fast and accurate, allowing your cloud experts to quickly assess relationships and find orphaned elements. With an efficient and economical way to monitor cloud environments, teams don't have to let orphans (and their associated costs) go unnoticed.